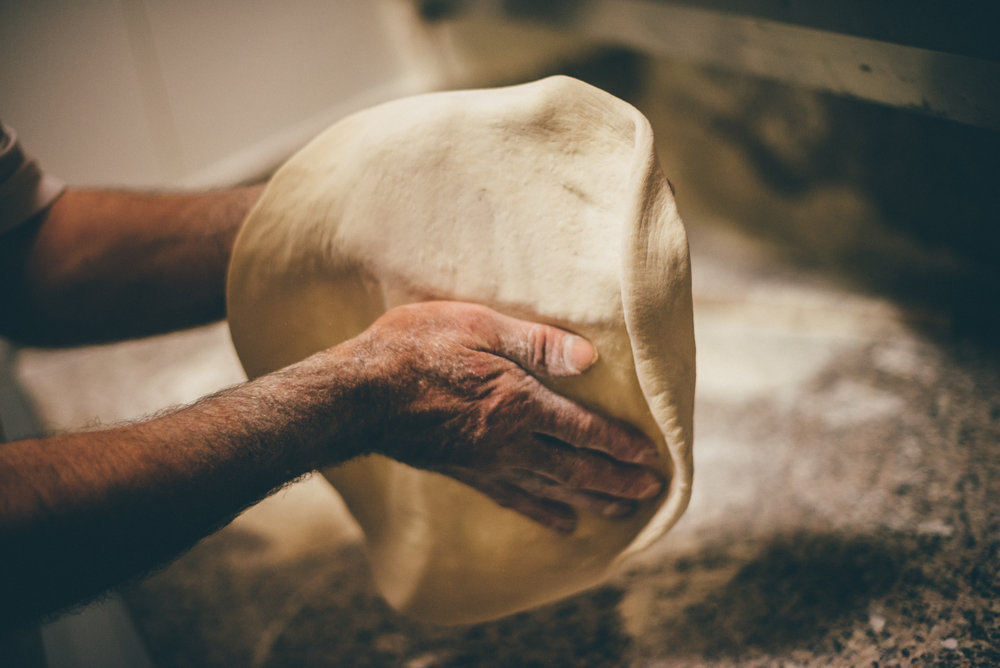 Pizza. One of the best things to ever grace our existence.
Pizza is one of the most delicious and versatile foods on the planet due to the seemingly endless number of topping combinations you can have on it.
We'll bet that we stirred up your hunger for a slice or two, or five. If you are indeed now hungry and you're in Long Beach, you're in luck.
Long Beach is filled with some of the best pizza shops in Southern California.
Here's a list of some fan favorites, and some of our favorites, too.
Let's jump in.
THE BEST PIZZA SHOPS IN LONG BEACH, CA
If you're looking to buy a delicious wood-fired pizza, this is your answer.
Olive Wood Pizza offers an amazing selection of pies (and of course ones that you can make your own) including:
OBG – Caramelized Onions, Crispy Bacon, Fresh Garlic, Basil, Mozzarella
Garlic Mushroom Crema -mushroom, Garlic, Mozzarella, Parmesan, Crema White Sauce
Meat Lover's – Pepperoni, Italian Sausage, Crispy Bacon, Homemade Tomato Sauce, Mozzarella
Margherita – Fresh 'fior De Latte' Mozzarella, Homemade Tomato Sauce, Extra Virgin Olive Oil, Fresh Basil
They also offer top-notch catering services for parties, weddings, and much more.
The 4th Horseman is labeled as a 'craft beer and wine bar with an apocalyptic pizza kitchen.
Their apocalyptic nature comes into full force as soon as your step in. Their dark atmosphere with a Haunted Mansion feel makes the pizza experience one of a kind. After you enjoy your slice, play one of their vintage video games to bring back a sense of nostalgia.
Their unique yet awesome menu item names also match their overall vibe. Check them out here.
We promise that you won't find a pizza shop quite like this one
Pinches Pizza is widely known for its dough that's made fresh on a daily, alongside using only the highest quality ingredients.
While the inside of their pizza shop is pretty standard, the thing that makes this place unique is their Dia De Las Muertos vibe with their walls decorated with cool pictures, masks, and other artifacts.
Pizza is the name of the game here, but they also sell lasagna, spaghetti, and chicken wings.
Their Bahn Mi Pizza is one of their fan favorites. Try that one when you visit.
Flippin' Pizza is a New York-style pizzeria that sells hand-tossed pies, calzones, salads, garlic knots, wings, meatballs, and much more. They cook their pizzas in traditional brick ovens for a taste you can't replace.
What more could you want?
Flippin' Pizza makes its dough fresh on daily and uses only all-natural ingredients. Much like all New York pizza, their dough is thin and airy with that authentic feel. They have several locations across the nation, including 3 in Southern California.
Some of their signature creations include
Tomato Basil Garlic
BBQ Chicken
Triboro
Whitestone
Buffalo Chicken
If you're looking for that NY pizzeria but don't want to travel thousands of miles to get there, Flippin' Pizza is the next best thing.
Order online, >here.
If you've never had Chicago style pizza, Rance's should be the first place you go to when wanting to get the experience.
Chicago style pizza is a very deep style of pizza, almost like a lasagna. Trying to finish one yourself can be daunting, and good luck not getting a food coma after polishing one-off. Usually, one or two slices should do.
Rance's prides itself on making the best deep dish pizzas using only the finest ingredients. Their sauce, dough, and salad dressings are all made from scratch. Talk about commitment.
Their menu is complete with pizzas, salads, wings (try their Bourbon Bacon flavor), and different sides and starters.
Make sure to come hungry! Also, you can order online, here.
Hotel Current is conveniently located in central Long Beach just minutes away from all the action of downtown, the airport, and more pizzerias than you can handle. If you're looking for even more things to do in the LBC, check out our attractions page. Book your local stay with Hotel Current today!